Nattapong Golf Center - Course
Course for Kids : Golf for kids nowadays become popular. Our first objective for the kid's golf lessons is not performance of the game, but loving in golf.
We aims for children enjoy their leisure time, getting to know the new friends and sport world. We emphasized on the happiness of golf practice together with mind concentration of children.
This would make the minutes as the valuable time of enjoy.

Course for Advance Junior Golfer


Some junior golfer dreams about the golf career, it is not difficult for us to lead them in to this way. Just contact us to get in touch with Pro.Nattapong, learn on what the experience of International Junior Thailand Representative was.
This course designed for the junior who aims for get the "single handicap" or the amateur golfer practice to make the cut into "Thai International Golf Junior Team".
Proven track record of Pro. Nattapong's profile. We are sure of that the children's dream becomes true.
Course for Beginner
For new golfer, Golf is challenging. The right basic swing is very important; it will be with you forever.

Be with us at the first time, we prepared Iron, Putter, Driver for your practice. Starting with the right basic grip, posture, and etc.
Course for Intermediate golfer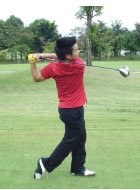 Popular question for amateur is "how can we reduce the score". What is the reason of score improvement swing? Grip? Mental? This course designed for such question. This course will assist you on analysis your current swing and mechanic.
We will be able to develop and tailor-made course which could solve your individual problem without starting from chapter one.
This course is designed for the player who wishes to adjust the right swing, increase the performance, reducing the overall score.
We are your partner to enhance your comfort feeling on golf on the difference way to play
Course-Advance Amateur -Turning to Pro.
This special cause aims for the single handicap players (Handicap 0-9) who wished to intensive improve the golf performance, reducing the overall score, until preparing for Turning to Pro.

Course - Short Cut & Intensive for Executive
The amateur golfers who usually played golf in the business propose. Due to this group of people has very limited time for practice, we prepared the tailor made course for short period intensive to lessen the golf rule, golf mental control, golf game planning and management and etc. This is to concrete the executive people confidence in playing the golf, rapid score improvement. This course is also designed for Golf playing with pro. 18 holes at the course (Maximum 3 golfers / time)
Special Activities
Mini Tournament for Advance Junior Golfer
Mini Course for Foreigner (3 Days Special Intensive Course)

1st and 2nd Day for Beginning (Basic Swing& Posture, Short Game, Regulation &Rule and Etc.)
3rd Day, Enjoy Playing Golf total 18 Golf Hole

(Special Picture: Special Designed - Short Course for limited time executive Foreigner,Mrs. Anna Tan and Mr. Lary Ho. From Singapore)
Golf Event for Organization & Executive
Golf for Executive in Organization (Special Price)
Golf Organizer for Company Event
Mini Clinic ; Short Game (Chip&Put) , Increasing Club Head Speed
Accompany with VIP group and taking care on Executive in the company event.
| | |
| --- | --- |
| Putting Game - Trophy | Mini Clinic - Increase Driving Speed |

Playing with Pro Boy - Executive Course